Galleon Systems Windows XP Time Server products ensure accurate system time is constantly maintained.
The Windows XP time reference can be installed on the serial port, or optionally USB port, of the host PC. Sofware drivers then ensure the system time is maintained to within milliseconds of UTC. GPS timing references use the global positioning system to obtain accurate time. The advantage of GPS systems is that they can be used world-wide. However, the antenna requires a good view of the sky to operate correctly. Ideally a roof-mounted antenna is required, however, satisfactory results can often be obtained by mounting the antenna on the side of a building. As a rule, the better the view of the sky, the more chance of a good continous signal lock.
Our time server solutions provide an accurate tracable source of time for a single computer or an entire network of computers. We can provide solutions for most operating system platforms including: Windows, LINUX, UNIX and Novell Netware.
Featured Product:
Galleon Systems GPS TS-700-GPS can accurately synchronise time on any PC to within milliseconds of the correct time.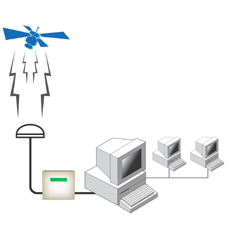 We can provide MSF radio solutions for UK operation, DCF solutions for Central European operation, WWVB solutions for US operation or GPS solutions for operation world-wide.
Also Worth A Look
Additional Information