The GPS Time Server - TS-900-GPS Precision clock obtains accuratetime from the GPS system to provide a truly global solution to computer time synchronisation.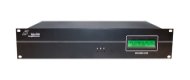 Features
Highly accurate computer timing source.
Drivers for Windows 95/98/ME, NT/2000/XP/Vista, Server 2003 and Linux\UNIX.
Up to 23 meters maximum cable length.
Weather-proof high gain GPS antenna.
Easy installation and configuration.
Requires a single serial RS232 port.
USB option.
Benefits
Provides accurate timing for computers and computer networks.
World-wide operation.
Ideal for transaction processing, time & attendance and access control applications.
Overview
The GPS TS-900-GPS precision clock time server obtains accurate timing information from the GPS system. Accurate timinginformation is passed to a computer via a single RS232 serial port.
GPS Antenna
The TS-900-GPS is provided with a GPS active antenna. The antenna is fully weather-proof and has a screw mount for ease of installation. The antenna is provided with 5m of cable which can be extended to 100m.
Software Drivers
Software drivers are available for most operating systems including Windows 95/98/Me, NT/2000/XP, Vista, Server 2003 and LINUX \ UNIX. Network Time Protocol (NTP) drivers are available for Windows NT/2000/XP and Server 2003 to provide network time synchronisation. LINUX \ UNIX drivers are provided as a NTP reference clock driver for the standard NTP distribution.
World-Wide Operation
The TS-900-GPS uses the Global Positioning System to obtain accurate timing information anywhere on the planet. Additionally, Galleon Systems supplies the TS-900-GPS with a universal 12V power-supply that can operate in the UK, US, Europe, Australia and many other countries.
Also Worth A Look