Galleon Systems Windows Time Server products are RS232 serial devices that provide accurate timing information to maintain correct operating system time.
The devices utilise MSF, WWVB, DCF or GPS timing references to maintain accurate time to within a few milliseconds of UTC. Drivers are installed on the host PC which read timing information from the connected clock reference. The system time is then continously monitored to eliminate any detected drift.
Additionally, NTP (Network Time Protocol) software can be utilised to distribute accurate time across an IP network. Any time clients can then synchronise to a known, tracable time source.
Our time server solutions provide an accurate tracable source of time for a single computer or an entire network of computers. We can provide solutions for most operating system platforms including: Windows, LINUX, UNIX and Novell Netware.
Featured Product
Galleon Systems TS-500-MSF-200 atomic radio clock can accurately synchronise time on any PC to within milliseconds of the correct time.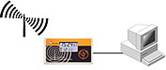 We can provide MSF radio solutions for UK operation, DCF solutions for Central European operation, WWVB solurions for US operation or GPS solutions for operation world-wide.
Also Worth A Look
Additional Information