MSF Clock for PC timing using Radio time signal
The TS-700-MSF weatherproof atomic radio clock is an accurate radio time receiver for synchronising time on computers and computer networks.
The TS-700-MSF weatherproof Atomic Radio Clock is an advanced radio time code receiver. It is available as 3 versions toreceive either the MSF (Cumbria, UK) or DCF (Frankfurt, Germany) or WWVB (Colorado, US) radio time signals. The antenna israted to IP65 and can be wall mounted indoors or outdoors up to 150m from the host computer. The unit is specifically designedto provide good signal reception in areas with a poor radio signal.
timesync NTP can be used to turn any Windows NT/2000/XP or Server 2003 machine into a stratum 1 NTP time server resource for your network. It can be used to synchronise the time on any NTP network clients on a TCP/IP network to within milliseconds of the correct time.
For more information on this product and others from Galleon please contact us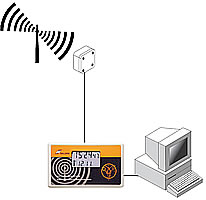 Features
IP65 rated antenna, can be wall mounted, outdoors, if required.
Up to 150 meters maximum cable length using structured cabling
Ideal for low signal strength areas.
32 bit application for Windows 95/98/Me, NT/2000/XP/Vista and Server 2003.
Provides stratum 1 NTP time server resource.
Easy installation and configuration.
Requires a single serial RS232 port.
USB option
Benefits
Provides accurate timing for any number of network time clients.
Reliable, accurate and secure timing resource, inside your firewall.
Ideal for transaction processing, time & attendance and access control applications.
Also Worth A Look