The TS-700-MSF atomic clock time device is available as three detivitives, MSF, WWVB and DCF. The device can obtain accurate atomic clock time from the tranmitted time signals and provide computers with an accurate time reference for synchronisation.
Galleon Systems timesync atomic clock time software drivers are available for all Windows platforms (95, 98, Me, NT, 2000, XP and 2003, Vista). The drivers obtain accurate atomic clock time from the TS-700-MSF device and synchronise time on the host computer to within milliseconds of the correct time. The ability to select time-zone and daylight-saving properties is still available and does not affect the operation of the atomic clock time device.
For more information on this product and other Galleon products please contact us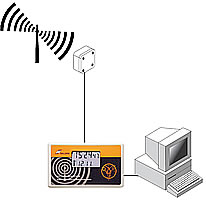 Fig: Atomic Clock Time Device
Reference clock drivers are also available for the NTP distribution for LINUX and UNIX. The device can then be used as an external timing reference for Network time synchronisation.
Low-cost
Battery powered
LED for signal quality