NTP atomic time clock
NTP can be used to synchronize the time on network clients, across an IP network, to the correct time of a NTP time server. Time Sync NTPprovides a stratum 1 Time Server for ensuring the time is correct across an entire network.
The AC500 Low-cost MSF Radio Atomic Clock receiver is an entry-level receiver, specifically designed to provide a cost effective yetreliable solution to time synchronisation.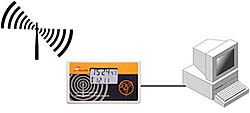 For more information and pricing on the AC 500 Contact us
Key Features
Converts any Windows NT/2000/2003/XP PC into a Stratum 1 Time Server to accurately synchronize the time on network clients across anIP network.
Provides full audit log of time adjustments.
On-screen signal strength and signal history for fine-tuning antenna location.
Key Benefits
Reliable and secure source of time for your Network.
Eliminates time drift on computers and networks.
Easy to install, configure and maintain.
Time Sync NTP Server - Windows NT/2000/2003/XP NTP Server Software
Time Sync is a combined Windows 32 bit service and configuration utility that provides a stratum 1 time server for Windows NT/2000/2003/XP.