AC500 Low-cost MSF Radio Atomic Clock receiver for Windows NT/2000/2003/XP providing accurate time synchronisation at an affordableprice.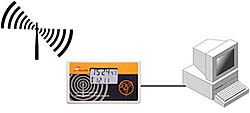 The AC500 Low-cost MSF Radio Atomic Clock Receiver is an advanced receiver, specifically designed to provide good radio signal receptionin poor signal conditions. The antenna can be mounted, outdoors if required, up to 100m from the host computer.
With the Windows NT/200/XP atomic clock software it can synchronise a computer to the most accurate atomic clock in the world.
Key Features
Guarantees signal reception in most areas.
Weather-proof IP65 Antenna, can be wall mounted, outdoors, if required.
100 meters maximum cable length (5 meters supplied).
Can utilise CAT 3/4/5 structured cabling.
Cable length easily increased using UTP/STP patch cables.
High gain active antenna.
Low-overhead Windows 32 bit service for Windows NT/2000/2003/XP. Operates continuously as a service, even when no user is logged on.
Just plug into free serial (RS232) port on PC. .
FREE unlimited technical support.
Key Benefits
Ideal for poor signal strength areas
Reliable and secure source of time for Windows NT/2000/2003/XP.
Eliminates time drift on computers.
Easy to install, configure and maintain.
Provides accurate time source for Time & Attendance, Access Control and mission critical applications.
Time Sync NT/2000/2003/XP - Windows NT/2000/2003/XP Clock Software
Time Sync NT is a combined Windows 32 bit service and configuration utility that provides time synchronization for Windows NT/2000/2003/XP.It maintains the computers time to within a fraction of a second of the correct time.